---
OEC STUDENTS Learn About College Life on Tour of  BRYN MAWR Campus

Read about it here:
---

---
There is no other school in the world like Overbrook Educational Center…
We are a K-8 public school located in West Philadelphia that serves a unique population of learners. If you are reading this right now, then you are unlike 27% of the students at OEC who are unable to read this print without magnification, technology aides, large print or braille. Slightly under 1/3 of our student population is blind or visually impaired (VI). Our ultimate objective is to prepare students to honor the diverse learner by providing excellent ins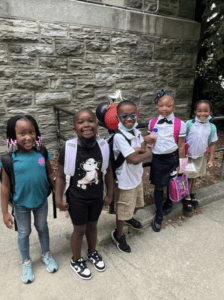 truction for all students. Come explore everything we have to offer!

---
At OEC…
We Own our actions (O)
We work together and have a shared responsibility for what we do and our learning.
We put forth our best Effort to excel (E)
We have high expectations to be prepared for high school, college, and career.
We Care for all (C)
We honor diversity, partner with our community, and celebrate each other's success.
---
Looking for a tutor?
Community Tutors Philadelphia, an online tutoring program run by Masterman high school students and administration is available!
They have a team of highly qualified high school students from high-schools across Philadelphia, who are volunteering to offer once a week, free, one-on-one online tutoring — in all subjects! Though tutoring has already started this year, they still have about 20 tutors who are ready to offer tutoring!
---
OEC OST After Care
OST is MONDAYS through FRIDAYS from dismissal (at 2:54) to 5:30 PM.
You can register up to 3 students that attend OEC Currently (who live in the same household) in one form submission.
If you need to register 4 or more students, you will need to complete the form multiple times.
---

If you are new to the OEC family, welcome and thank you for choosing our amazing school.
Key Information for Families:
● There are NO UNIFORMS this year.
We are already gearing up for an incredible new school year. Our teachers have attended training sessions to better help all students learn and grow. Ms. Liles and Ms. Keefer have been hard at work updating student files and ordering new materials. Our hard-working custodians have spent the summer cleaning our school. And, our cafeteria workers are preparing to serve your children delicious, healthy and free breakfast and lunch each school day. I am excited to begin a great school year with a focus on student growth. After years of battling the pandemic, we can only get better and improve together. We are ready for you and excited!
We will continue our focus on ATTENDANCE.
Daily start time is 8:15am and end time is 2:54pm.
Students are allowed to come to school as early as 7:45am.
Be sure to visit www.philasd.org for important back-to-school information such as how to get a Philadelphia School TransPass.
At OEC we celebrate regular attendance and I want to express my gratitude to every family member for ensuring your child or children met their attendance goal of 95% or more of school days last year. We will 1 continue to use our scorecards and monthly reflections and our new goal for 2022-2023 is to have 80% or more of students attend 90% or more of school days.
NEW STAFF
We are also adding new staff for the 22-23 school year
 Guidance Counselor: Ms. Morgan Simon
 Life Skills K-2: Ms. Cameile Graham
 Music: Ms. Blair Kidd
 Physical Education: Mr. Scott Kurzinsky (Coach K)
 Middle School Social Studies: Ms. Amanda Levy
READ ABOUT OUR NEW STAFF HERE!
Our expressive arts class offerings will be music, physical education, and art (5 days a week).
**Special welcome back to our art teacher Mr. Pritchard!
**Special welcome back, also, to our learning support teacher – Ms. Zisk!
**Mr. Rivera has moved to the Middle School Team as our Writing teacher.
Mission/Vision:
Let us focus on our mission of proficiency for all students in each subject area and for the development of strong character. Let us hone in on our vision of 100% of 8th graders gaining admittance to the high school of their choice.
Through the involvement of families, I am confident we will reach our goals below and deeply believe in each of you as partners in this work. Goals:
Culture: We will create safe, welcoming and healthy spaces (classrooms) and relationships with all students, staff, and our OEC community.
Instruction: We will provide culturally relevant and academically rigorous instruction to all students.
Restorative Practices
As we work to grow and adopt more restorative behavior practices at OEC, we are dedicated to implementing multiple programs to support positive student behavior. Mr. Chaney is taking the lead on this with our climate staff team members and more information will be shared shortly.
The 2021-22 OEC School Plan is now available for public review. Please provide any feedback here.